WHERE IT BEGAN
Roadbars was founded based on a love for farm fresh ingredients, travel, and vintage trailers.
We served the first beverages mixed from our small-batch shrubs and syrups out of our renovated 1950s trailer bar in 2016 in Sun Valley, Idaho.
We specialize in craft mixers for delicious sodas and cocktails. Each mixer is carefully batched using farm fresh and seasonal ingredients, and made by hand.
Fresh Ginger Shrub

Peach Lemon Shrub

Rhubarb Honey Shrub
GET CRAFTY
mix 1 oz shrub or syrup to make:
sodas - 5 oz soda water
soothers - 6 oz hot water
mimosas - 5 oz bubbly
shandys - 6 oz beer
lemonades - 1 oz lemon juice + 5 oz soda water
cocktails - 1.5 oz spirit + splash of soda water
More Recipes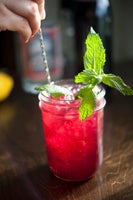 WHAT WE DO
We do craft.
We source from local farmers and make our mixers from scratch in small batches. We support local and regional distilleries, breweries and wineries when possible.
Roadbars, and our vintage trailer bars, are located in Bellevue, ID and we service the Sun Valley and greater Boise areas.
HOW IT WORKS
We work with you to curate the perfect beverage experience for you and your guests. We design the menu that fits your needs, group size and type of drinkers.
We bartend your event from one of our custom vintage trailers, our wood portable bar, or you provide us a bar and we serve up our craft cocktails from there.
You enjoy your event while your guests rave about the delicious, fresh and tasty drinks.